Profit Dashboard
Selling on Amazon has become increasingly complex with the multitude of costs involved, resulting in an unclear view of a business' profitability and trends. BQool understands this complexity and continues to support businesses by delivering a solution that consolidates a lot of these expenses in the form of a new Profit Dashboard.
This dashboard consolidates your sales and Amazon fees and presents an easy-to-read and configurable graph for a quick understanding of your company's financial status. The graph now includes the ability to select by account and by channel.

Multiple metrics are included in the profit dashboard, they are broken down into
Orders, Returns and refunds
Refund cost, promotion cost, advertising cost, and Amazon fees
Two chosen metrics can be compared on the dashboard at one time to help you better understand your business.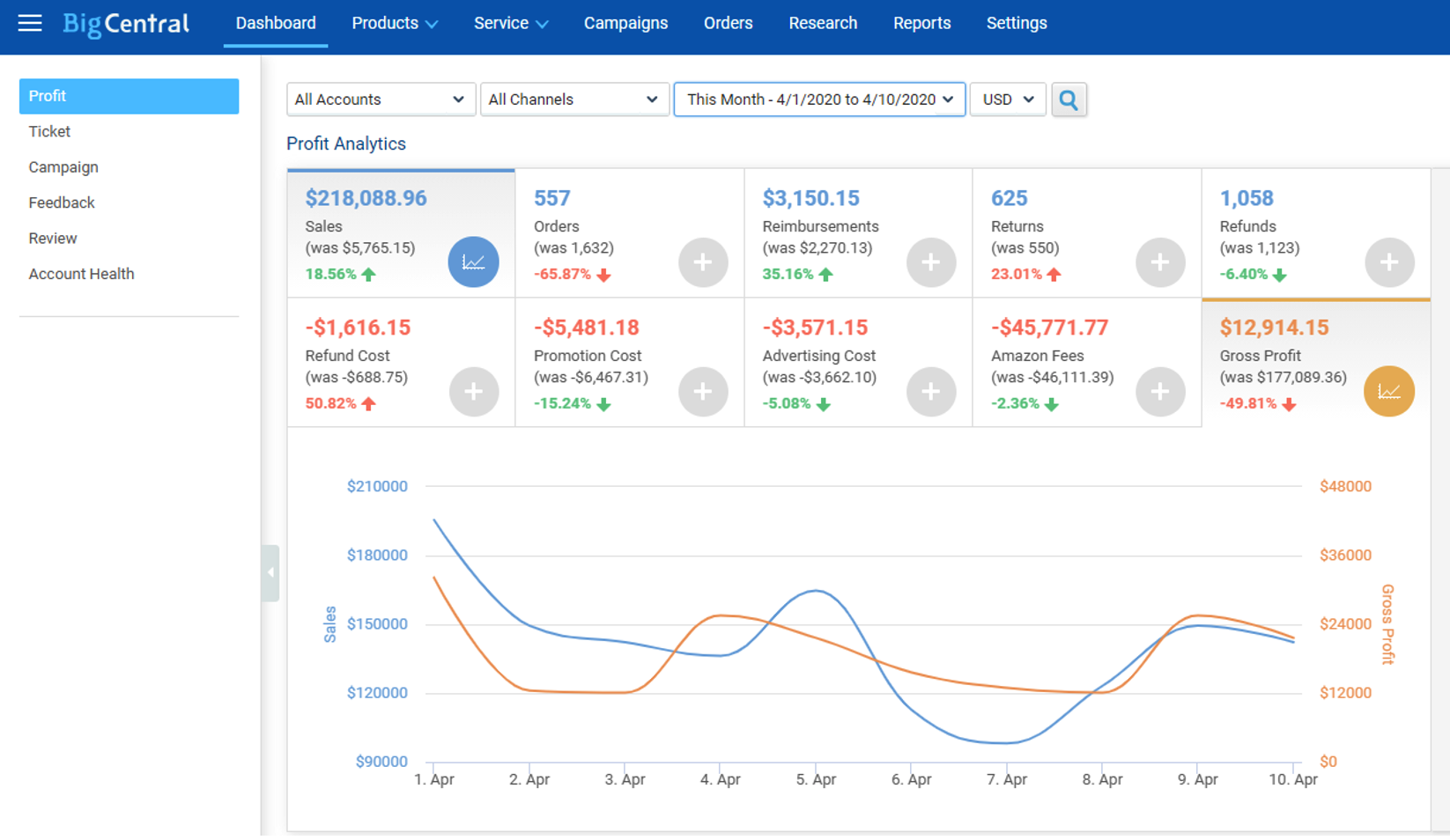 "Was" rules (Period Comparison)

The Profit Dashboard "Was" period comparison reflects similar past time period comparisons accurately. For example, if a seller selects "This Week", which is partially completed at 4 days, then it will be compared to the previous week's first 4 days. Another example is if a seller selects "This Year", and the current date is May 1, 2020. The comparison period would be the previous year up to May 1, 2019. Please see the examples below.
To adjust the time period of the data displayed, first click on the "Dashboard" menu tab, followed by "Profit" on the side menu. On the Profit Dashboard, select the time period of interest (by default the time period should be the current month).

Currency Converter
The dashboard also contains a build-in currency converter which automatically converts between most of the currencies used on the existing Amazon marketplaces.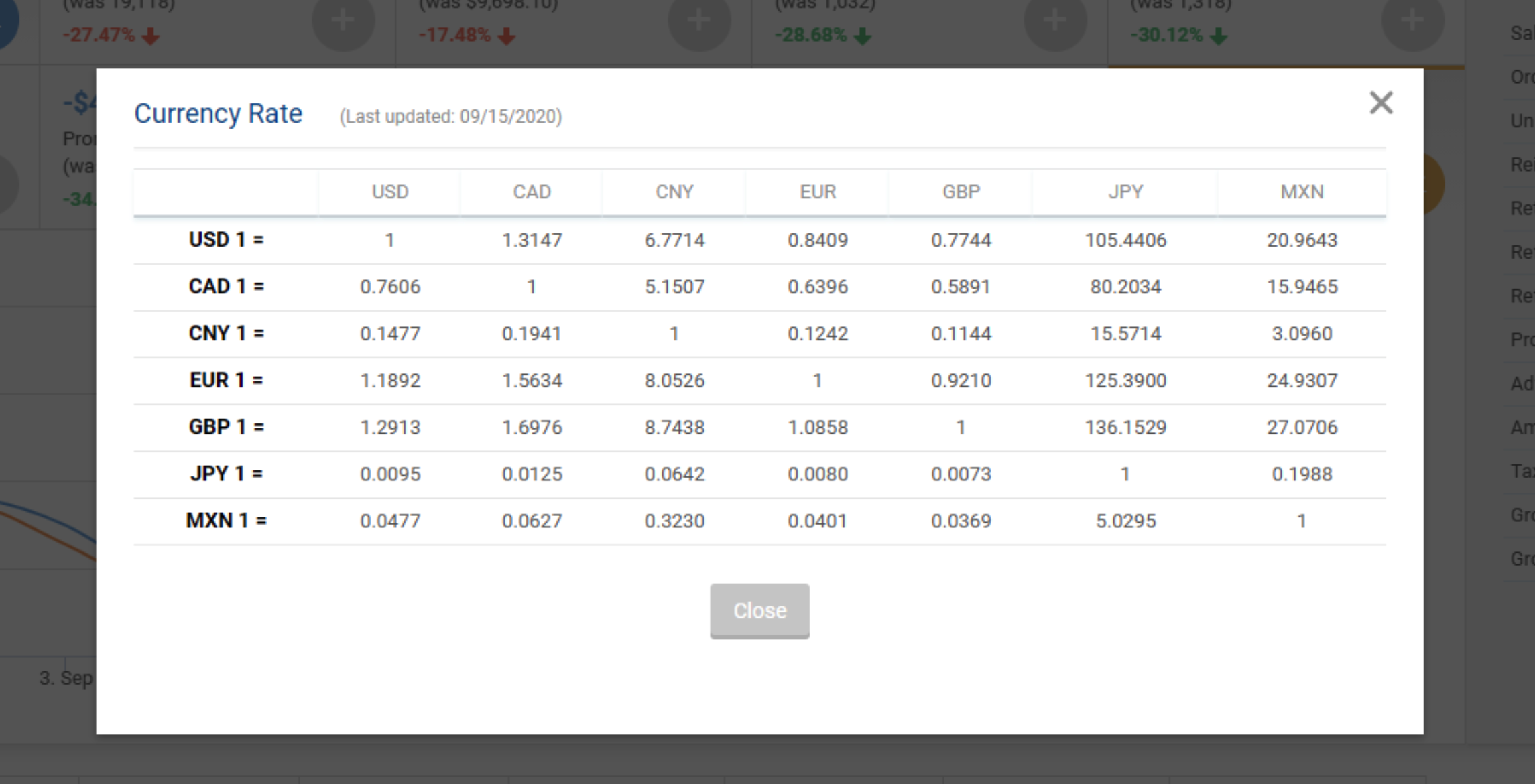 The Profit Dashboard provides Profit & Loss statement for users with accounting needs.
For a more structured format, a simplified Profit and Loss Statement can also be quickly brought up to give you a summary of your financial standing and its statement can be downloaded in an instant.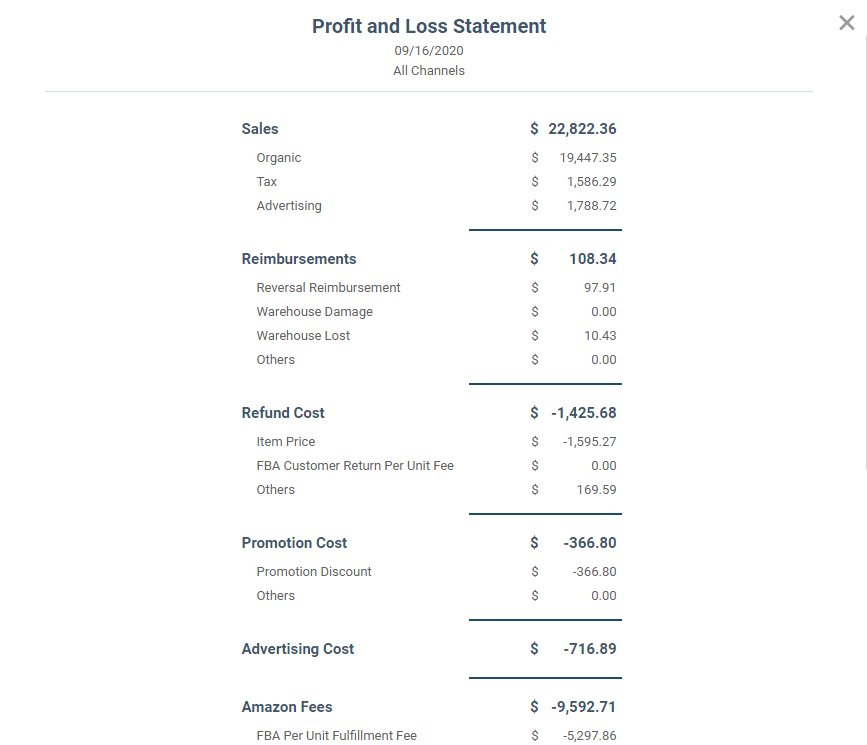 Product Performance Ranking
The Profit Dashboard also provides performance rankings such as Most Profitable, Most Refunded, Most Advertised, etc, for a quick visual on the top movers.

Feature Enhancement: "Most Reimbursed"

The Amazon reimbursements may arise from customer returns, inbound shipments, lost inventory, or damaged inventory. To provide a quick glimpse of the products that are most reimbursed by dollar value, you may now view this ranking in the Profit Dashboard.