Filters: There are many filters available to target more specific customers. Please remember to select the correct options after toggling one of the Filters.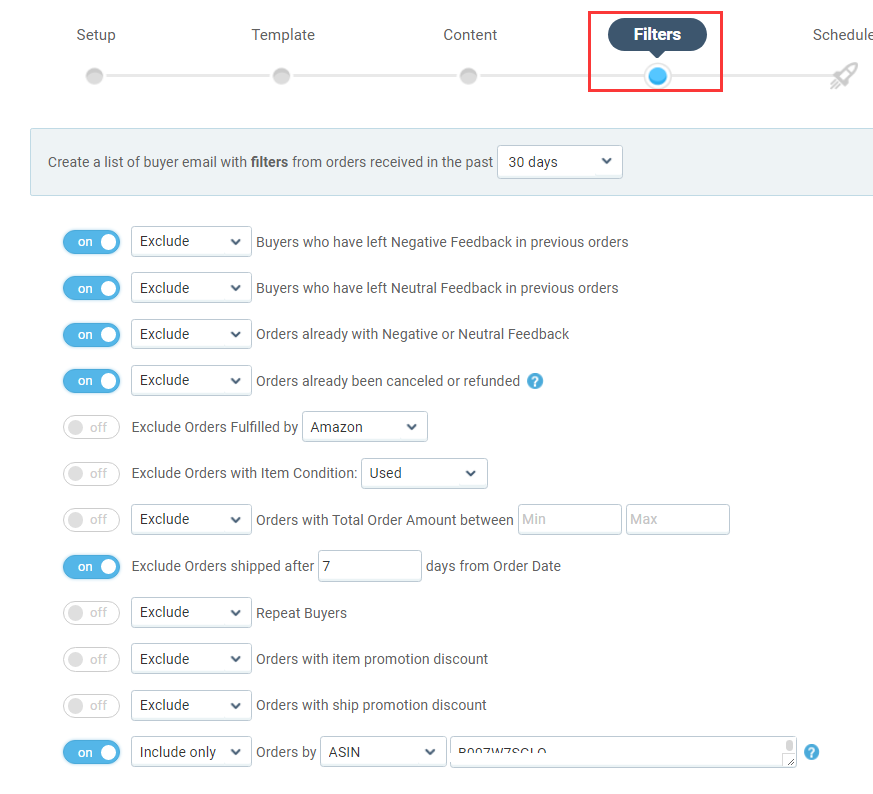 The top three filters are basic options many of our users decide to toggle on.
[Exclude | Include only] Buyers who have left Negative Feedback in previous orders



[Exclude | Include only] Buyers who have left Neutral Feedback in previous orders



[Exclude | Include only] Orders already with Negative or Neutral Feedback



Exclude Orders already been canceled or refunded
You can also exclude orders that fit in that description but be aware that it only applies to refunds on FBA orders.

Exclude Orders Fulfilled by[Amazon / Merchants]
You can toggle on to exclude the orders fulfilled by Merchant/ Amazon.

Exclude Orders with Item Condition: Used/ New
You can also specify which (if any) item condition you would like to exclude. For example, if you choose to exclude used items, the system will not send out solicitation emails to your customers that bought used items.

[Exclude | Include only] Only Orders with a Total Order Amount between a specific range.
The filter here can avoid sending emails to customers whose orders with the list price that is too low so that there is a decreased chance to get Negative feedback or reviews.

For example, if you have a batch of low-quality products that you want to sell at your break-even point or just clear some of your inventory. If the list price is set at $1 to $5, you can specify the number for Min $1 to $5 dollars. With this, the system won't send solicitation emails to the orders within the price range.

Exclude Orders shipped after a certain number of days from Order Date

Excluded / Include Repeat Buyers
Toggling on the filter to exclude repeat buyers, the system won't send emails to the buyers who bought the same product multiple times.

Exclude/Include orders with promotion/ship promotion
Filters are created to avoid request Product Review on promotional order to comply with Amazon's guidelines. Please know that if you turn on include promotion orders then the emails will only create promotions associated with that item.
Users can exclude or only include the orders by ASIN, SKU, and SKU (RegExp).
Please follow the rule when you input the ASIN and SKU information.
We recommend that you set campaign status to 'Test'. Find out if it works as you expect.
There are two filters that require extra authorization from your Seller Central account. Please refer to the Positive Feedback Integration support article for details.
Exclude/ Include only Orders already with Positive Feedback
Below only focuses on the Include only function. The system will only target the order with Positive feedback(4-5 stars) in the past. If the customer has 5 orders which already have positive feedback in the past 7 days, this filter will flag that user as someone to receive an email. The ideal situation for this filter is when the seller wants to send out a review request for the orders that had positive feedback in the past.

To include only the Buyers left positive feedback in the past.
If the customer has left 18 Negative reviews but has left positive feedback before, the system will still target this customer and send out the solicitation email.
 In order to have all of the Positive Feedback integration filters toggled on, you need to first toggle on the filters listed in the Picture below.