The Ticket Report, Campaign performance report, Feedback Report, Review Report, and Sales Report can be found under the Report Section, which can provide deeper insights for your Amazon account performance.

Feedback Report
How to adjust the time frame?
When users view a report, there will be a graphical representation of the data, and a corresponding chart containing the data.
Changing time parameter settings for the graph will also simultaneously change the chart in the same fashion.

Use the Zoom settings to change how much time the graph "zooms" in on.
Click the calendar to select a date to set a specific time frame for the graph.

Select "by day/week/month" to change how the data is broken down.
Display
Users can rearrange the column sequence on the display section for each report.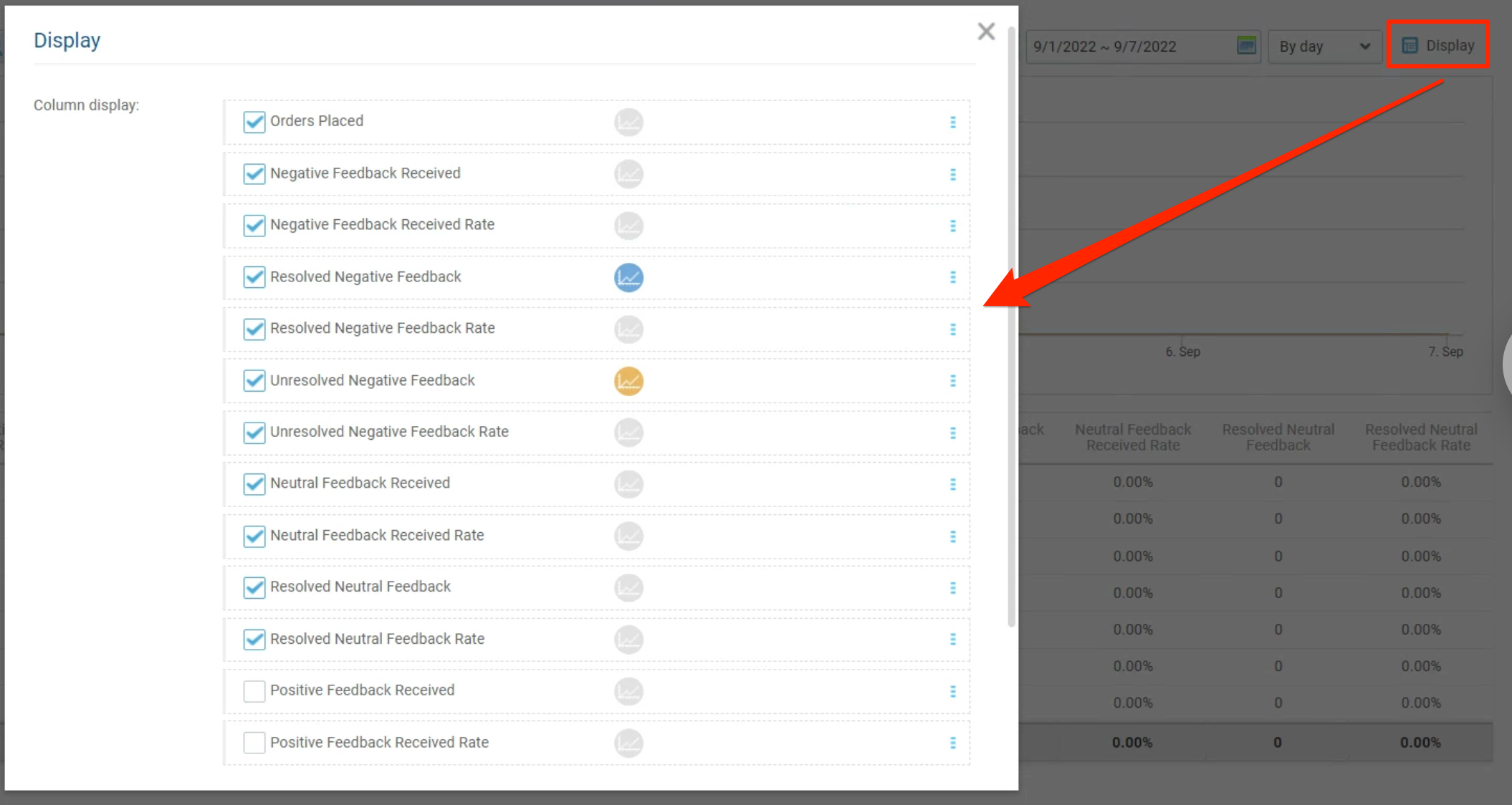 How to add data?
Moving the mouse to the right side of the window will expose the Select Column settings drawer. Here you can select which columns to show or hide for the chart.
You can also remove a column by selecting a column and clicking Remove Column.

To plot another line of data on the graph, select the column you want to plot, and click the column label and select Add to Graph.

Note: You may choose up to 4 columns to plot on the graph.
To remove a line, choose the column label you wish to remove and select Remove from Graph.
Daily Report
Users can filter based on the timeframe of their choosing.
The order sequence can be re-arranged in the display section.

Order placed
Negative Feedback received
Negative Feedback rate
Resolved Negative Feedback
Unresolved Negative Feedback
Unresolved negative Feedback
Neutral Feedback Received
Neutral Feedback rate
Resolved Neutral Feedback
Unresolved Neutral Feedback
Unresolved Natural feedback rate
Positive Feedback
Positive Feedback rate
Sent email