The BigCentral Dashboard tab contains six different options--Ticket, Campaign, Feedback, Review, Sales, and Account Health.
Ticket
The Ticket Analytics gives you a quick overview of your past 30 to 90 days tickets status regarding the number of New Tickets, Solved/Unsolved Tickets, Sent Messages, Average Response time and more.

Campaign
Amazon's latest communication guidelines stated that permitted messages may not include tracking pixels or image. In aligning with these guidelines, the email Opened and Opened Rate will no longer be displayed within the email campaign feature.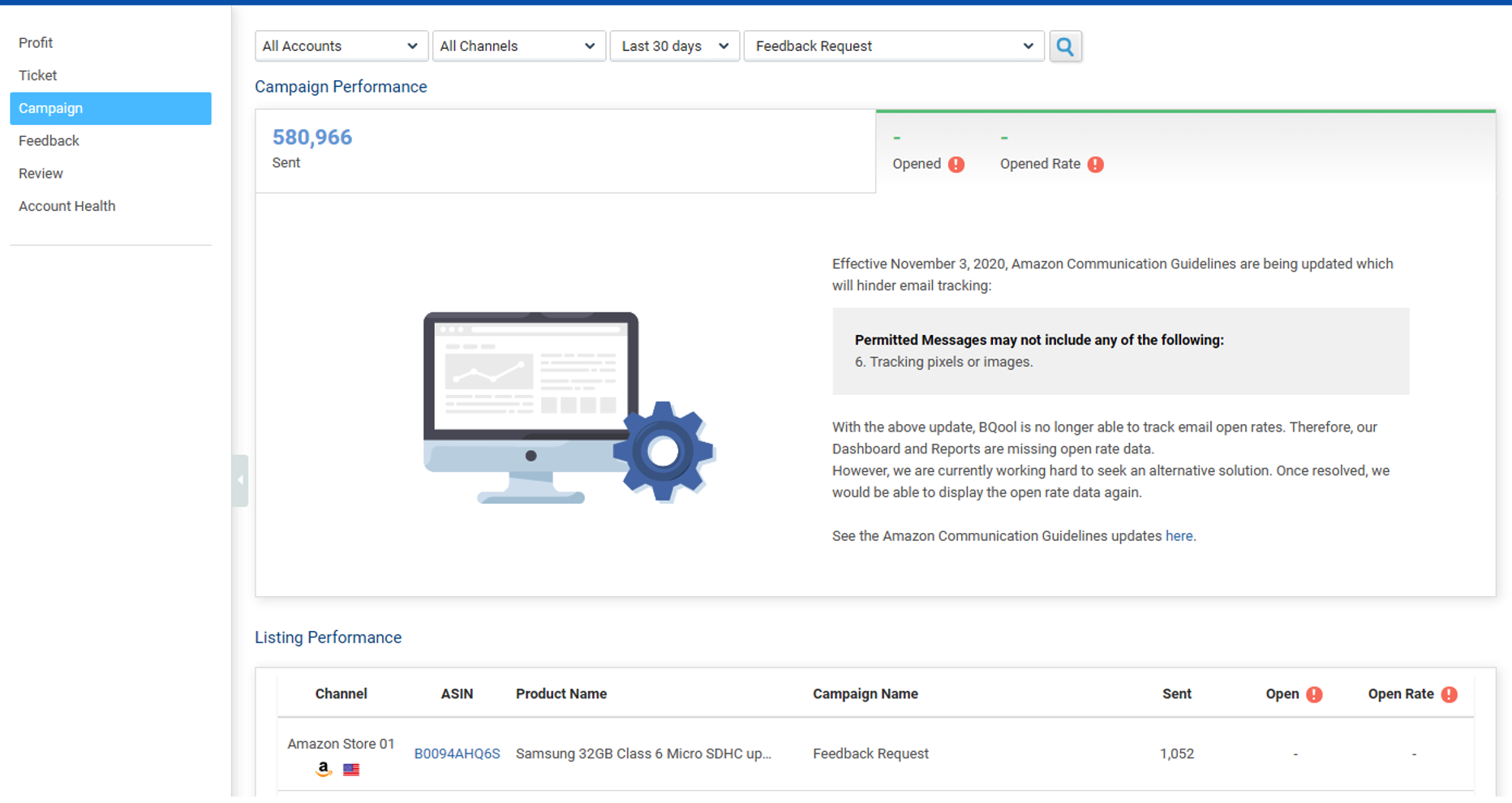 Feedback Analytics



The Feedback Analytics will display the amount of positive and negative feedback, the total amount of feedback received, the amount of negative feedback removed, and the total number of orders received.

By scrolling down the page, the users can find other two new features: Feedback Rating and Buyers with Most Positive / Negative Feedback.
Review
If users only have a Feedback Central subscription, there won't be any data available after the BigCentral upgrade. However, BigCentral provides 5 listings of review tracking for free. Users can turn on Review Tracker and select whichever 5 ASINs to track reviews for. More detailed functions will be introduced in the UGC section.

If uses originally had a Review Central subscription, the system will display the corresponding review data and information. The Review Analytics displays the number of Positive, Neutral, and Negative reviews in accordance with the tracked ASINs. It will also display the number of Negative Reviews removed and the number of orders received in the past 30 to 90 days.

Furthermore, the system displays the negative to neutral reviews. (Only the most recent 10 reviews will be displayed. )

Sales
The BigCentral Sales tab indicates the sales performance information regarding Total sales, Total Orders Placed and Total Units Ordered, etc. for a certain period of time.

By scrolling down the page users can find two new features, Best Selling Items, and Most Frequent Buyers.

For the Best Selling Items, the user can use the drop-down menu to sort the items by the number of units ordered as well as by sales for a given period of time.

For the Most Frequent Buyers feature, the user can use the drop-down menu to sort Loyal Buyers by the number of orders placed as well as by sales for a given period of time.

Account Health

The Account Health page presents a comprehensive account performance overview and provides the Alert Notification Feature to inform users when the Amazon Store Service fails to meet their performance targets. BQool understands how important it is to meet target requirements for each metric in an effort to avoid any negative impact on selling privileges or seller feedback. The Alert feature can also help avoid suspension of the user's Amazon Store.

For more information regarding performance targets, visit Seller Performance Measurement.