Yes, BQool AI calculates a unique competitive relationship model that takes into account the product status, ASIN, fulfillment, competitors' prices, and many other relationships in the competitive relationship. This way, using the AI Repricer, it will be easier and more detailed to get price relationships with all competitors in the price adjustment process and it will be possible to make price adjustments more accurately.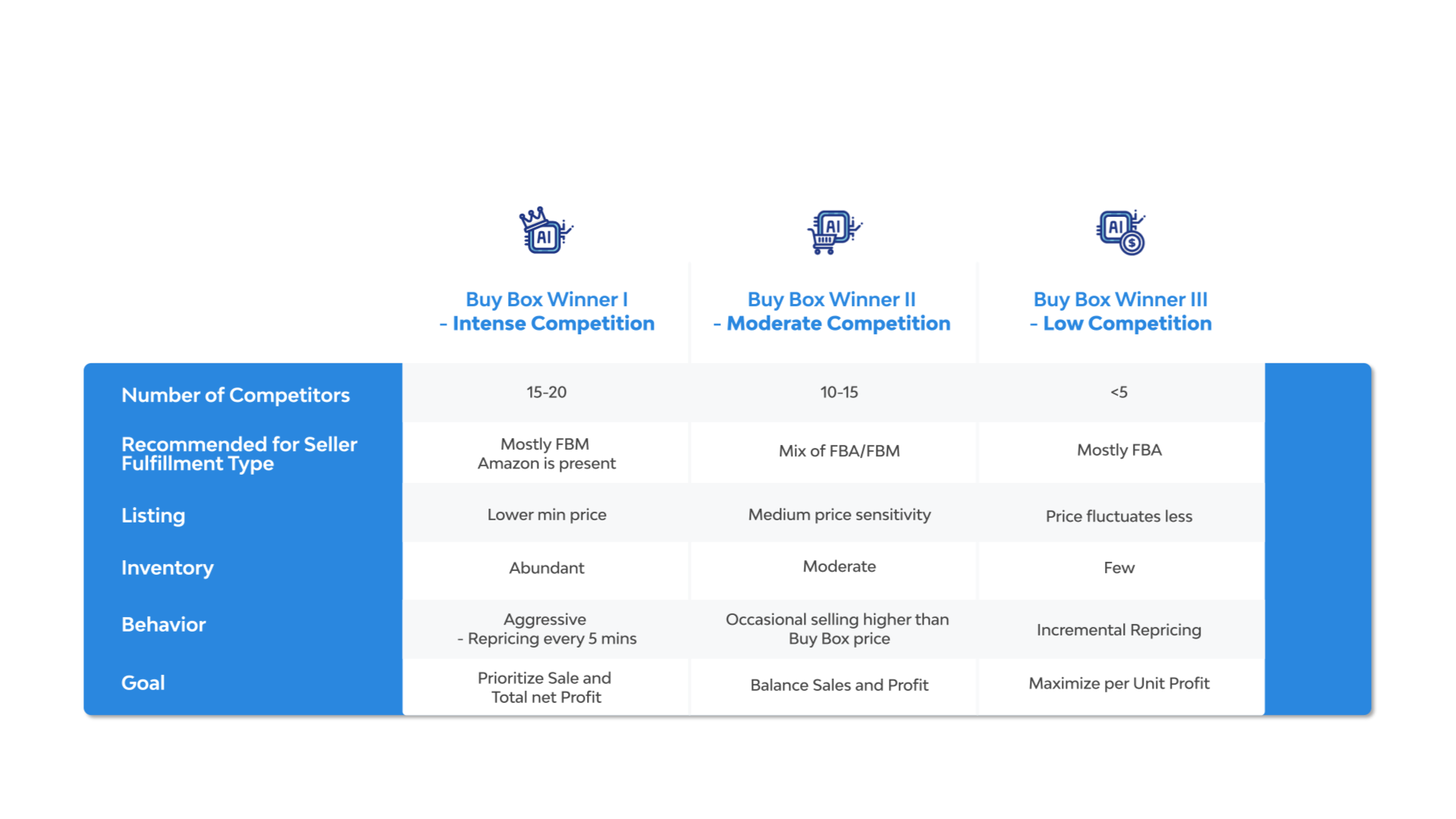 For more detailed information on how to choose an ideal AI strategy for your listings, please refer to the explanation of the 3 AI strategies below:
3 AI Strategies
There are 3 variations of our AI Repricing rule, based on the level of competition.
These are intense, moderate, and low competition.
AI Buy Box Winner I – Intense Competition
Reprice aggressively. Recommended fulfillment type: FBM
The AI Buy Box Winner I: Intense Strategy is sales volume-oriented while also keeping profit margin in mind. Our AI-Powered Repricer can be used to maximize sales aggressively and go for the buy-box. This is suitable for the following scenarios:
There are over 15 sellers in each competition and there is a combination of FBA/FBM sellers.
When a lower per-unit profit is acceptable.
There is a lower min price, which gives more repricing leverage to AI.
The repricing activities are dramatically changing every 5 minutes (ultra-competitive).
During inventory liquidation.
Amazon is present.
There are lower-priced competitive products with an abundant inventory.
AI Buy Box Winner II – Moderate Competition
Reprice moderately. Recommended fulfillment type: FBA, FBM
There are 10-15 sellers.
When selling products that are less price-sensitive.
A higher per-unit profit is the goal.
Recommended for FBM/FBA Sellers
Ideal for quick sales with the possibility of occasionally selling higher than the Buy Box price, driving up your profits.
Aiming more for profits and ROI than immediate sales.
After winning the Buy Box, this strategy will also attempt to raise the price incrementally when possible.
Finally, we have our low competition AI rule. This is suitable if you are selling the same items. Perhaps you're in the same arbitrage group, and you're sharing the buy box and you are all trying to maximize your profits per unit. You are not buying in large quantities and don't have a very large inventory. This is also very suitable for you if you're selling high ticket items that don't quickly depreciate, and the price has been constant.
AI Buy Box Winner III –Low Competition
This is best for the following scenarios:
There are less than five sellers and your goal is to maximize profits.
When the goal is to maximize the profit per unit.
There are only a few products or items left in inventory and not a lot of competitors.
You're selling high ticket items that don't quickly depreciate, and the price has been constant.
Certain situations are most favorable for using the AI Repricer. This is when there are less than 20 competitors. If it's over 20, it's too saturated. Second, when price below the minimum. This is when the competitor's buy box price is lower than your min price.
Need help with your AI repricer? Click on the LIve chat button now!