Reviews

The system will display the reviews received from All Marketplaces. From the All marketplace menu, users can choose to check on the reviews from a certain marketplace.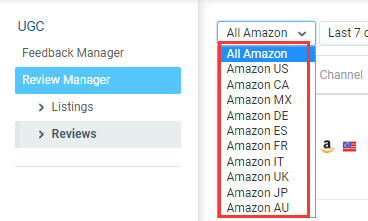 After selecting certain listings, users can use Bulk action to edit the status of multiple selected reviews at once.

Rating:
Users can sort the reviews with a specific rating type or certain rating above or below.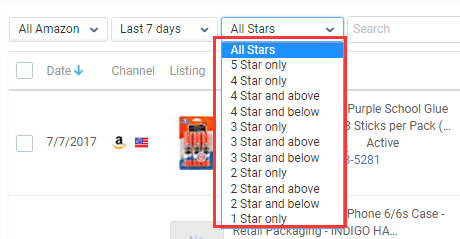 Download Report

Through the Active drop-down menu, users can choose to reply to the review on Amazon public review page or to contact Seller Central Support to remove a controversial review.

Review Tracking with Google Translate
To increase the efficiency of managing reviews, Review Tracking has now integrated Google Translate. This minimizes the time required to jump back and forth between BigCRM and a 3rd Party translation program.
To access this functionality, first click on the "UGC" menu followed by "Reviews" under the "Review Manager". Then, under the "Reviews" column, select the review that you wish to view.


Then select the language of choice.