Direct registration with BigCentral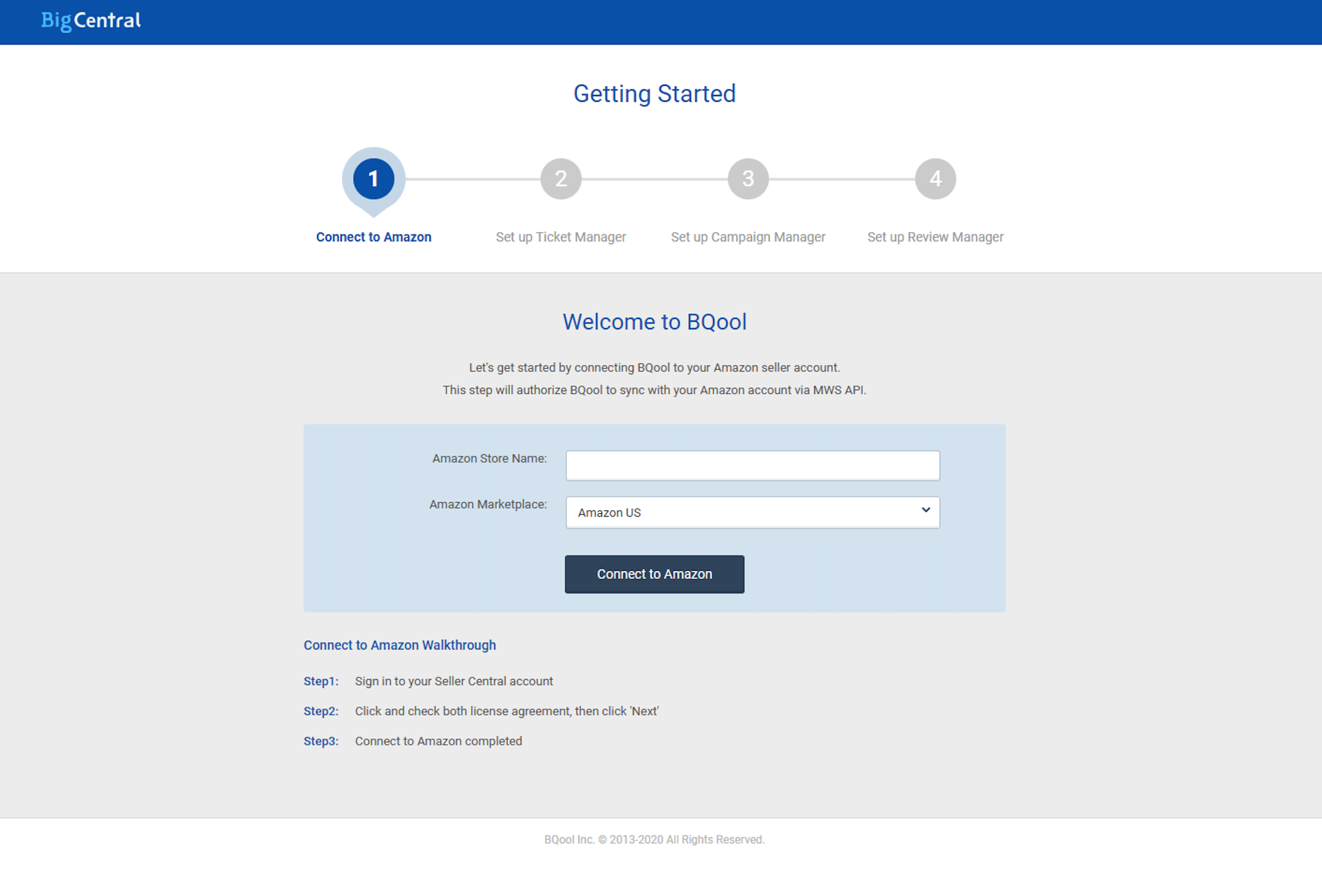 Steps to complete the MWS access authorization:
Step 1: Connect to the Amazon Store
After you have activated your BQool account, you will need to enter your Store Name and select the Marketplace you wish to do a trial with. Then click Connect to Amazon to access the Seller Central.
Login to your Seller Central with the popup window. Check the "I understand" box and click Next.
Please click the Continue button to complete the authorization.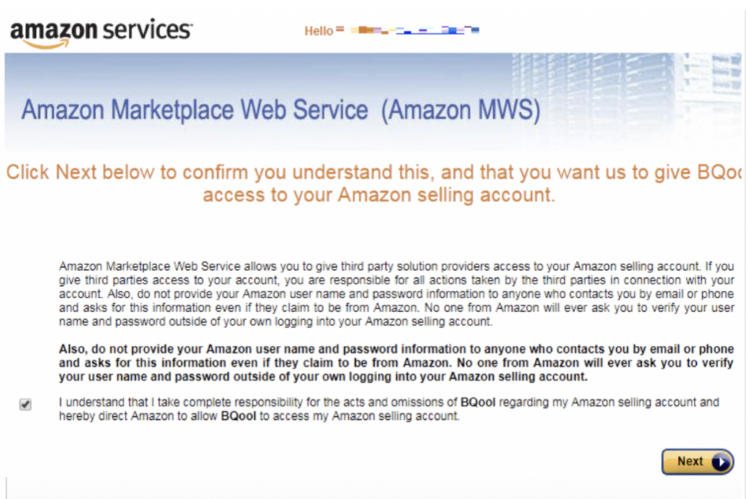 Email us at support@bqool.com if you have further questions regarding the MWS issue.
BQool Application Developer Account Number
Amazon US, CA, & MX:

6520-9041-4559

Amazon EU (UK, DE, FR, ES, IT):

5013-3213-1114

Amazon JP:

0243-8352-9264
Note: It could take a couple of hours to download all of your Amazon Seller Account data.
Step

2

: Setup BigCentral

email as Customer service email.
Before you contact customers with BQool, make sure the BigCentral email is registered as a Customer Service email on Amazon. Otherwise, Amazon blocks your email, preventing it from reaching your customers.
To register your email with Amazon:
Note: The permission level of Customer Service supersedes the Approved Sender email. Only after setting up BigCentral as your Customer Service email can you use the new features like the Ticket Manager. After you have set up the Customer Service email, there is no need to set up BQool email as your Approved Sender Email.
Only in this way, can the Ticket manager display the email or messages that Buyers send to the Sellers, present the Amazon notifications sent to the Sellers and contact Buyers through the ticketing system.
Setup Path: Sign in to Seller Central > Account Info > Your Seller Profile > Customer service details
Paste your BigCentral email into the Customer Service Email & Customer Service Reply-to Email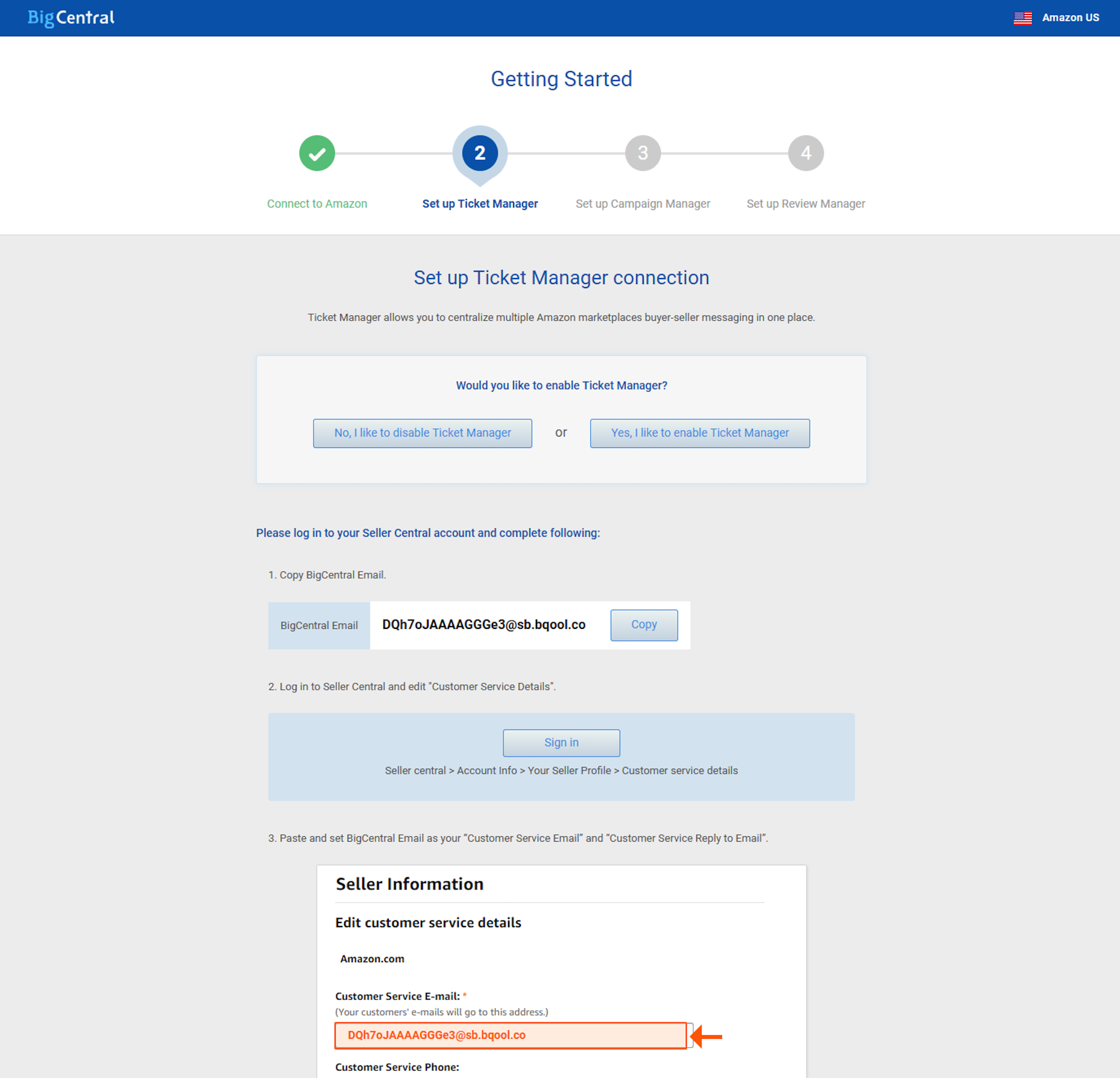 Step 3: Messaging
First, copy your BigCentral Email. Next, sign in to Seller Central & add your BigCentral email. Find "Messaging" & click "Edit." Last, add your BQool Email to all four columns below:
Buyer Messages

Confirmation Notifications

Delivery Failures

Buyer Opt-out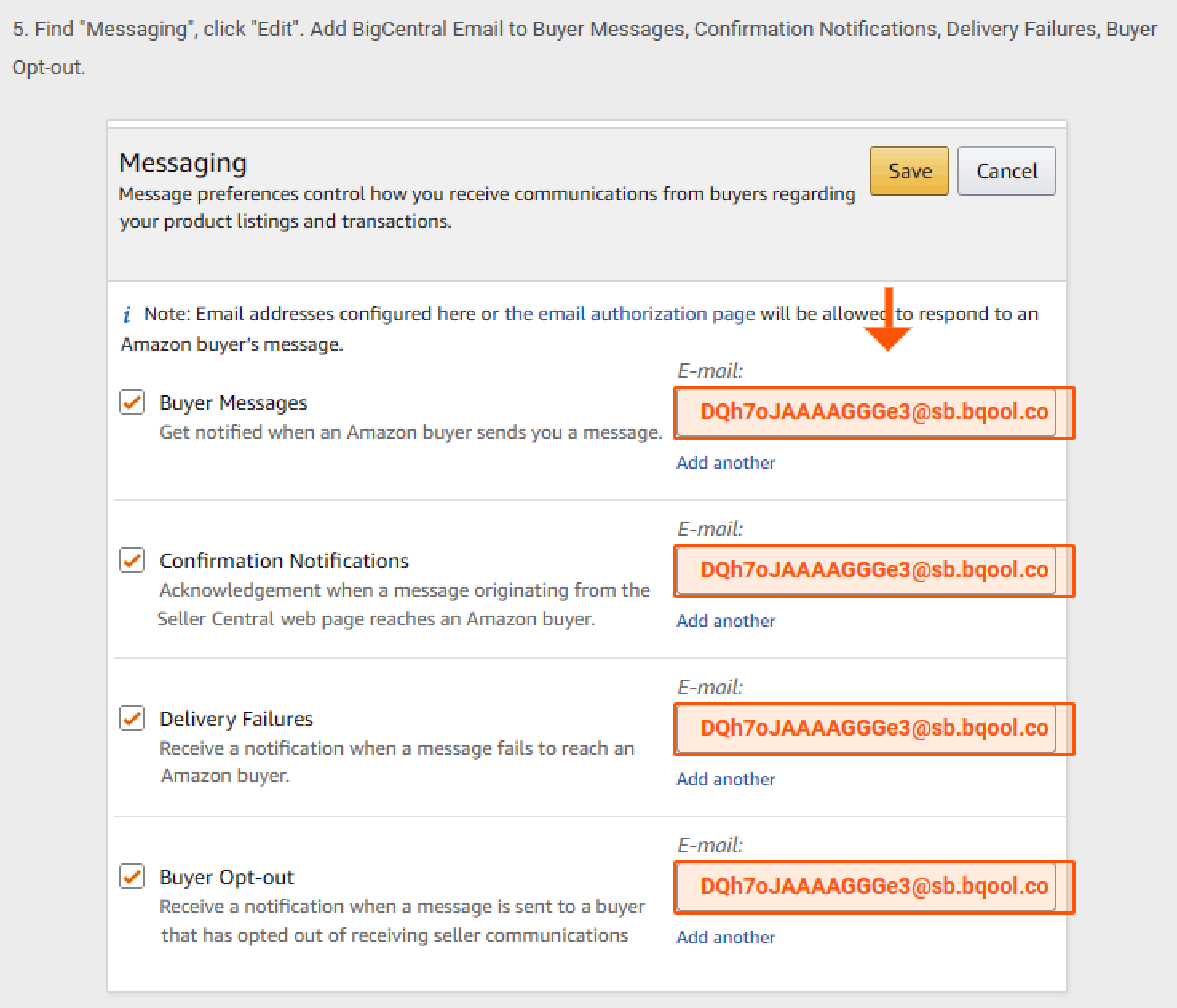 Step 4: Kick Start your Ticket Manager or Campaign Manager.
On the "Getting Started" page, users can choose to start with the Ticket Manager or Campaign Manager.