General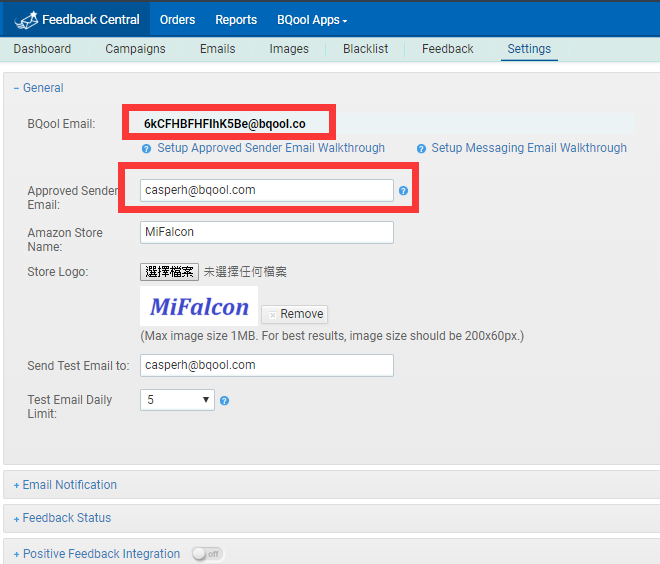 Go to Feedback Central > Settings > General to access settings for emails, notifications, and feedback status.
Approved Sender Email: Before May 14, 2018, there was this section to put in the Amazon approved sender email address (your own email) in here. It would not affect the previously created or Default campaigns. It would only apply to the newly added campaign. After May 14, we decided to just provide a BQool email for you to streamline the experience and took away this section as seen above.
Amazon Store Name: Manage the name of your Amazon storefront.
Upload Store Logo: Upload a picture of your company or storefront logo. This will be shown in your emails.
Send Test Email to: Specify which email address to send test emails.
Test Email Daily Limit: Set a limit on how many test emails you can send daily.
Email Notification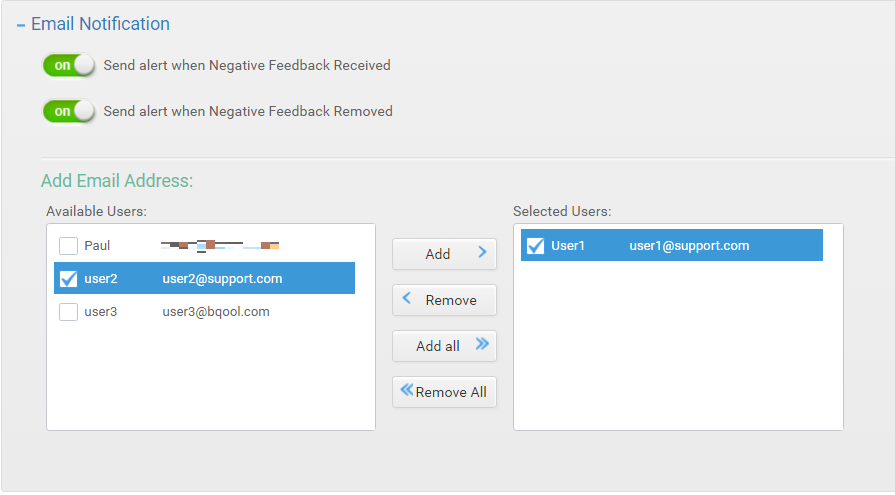 You can set alert settings under Email Notification. You can also add emails of people who are going to be receiving alerts. Choose the email address under 'Available Users' and click Add > to move it to the right as a 'Selected User'. Only 'Selected Users' will receive email notifications.
Feedback Status
If you like, you can change how Feedback Central marks new feedback under Feedback Status. Please open the Feedback Status option and set up the status, for example, you can make the 1 and 2-star feedback marked as Open, and 3-star feedback are marked as Closed. Please remember to Save after you are done.
Positive Feedback Integration
You can integrate your Seller Central with BQool to have your positive feedback downloaded and also exclude orders that already have positive feedback in your email rules. 
***Note: Please use another email login to grant access to BQool***