Emails - Campaigns
Go to Feedback Central > Emails > Campaigns to see a list of pending emails that are due to be sent.
Under the Email Send Date column, you can see when the emails will send.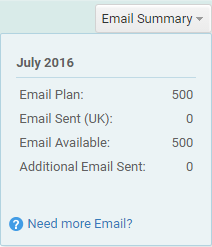 The Email Summary at the upper right will show how many emails you have sent, and how many emails you have available to send.

A message next to Campaigns will also show how many emails were sent yesterday, and how many is schedule to be sent today.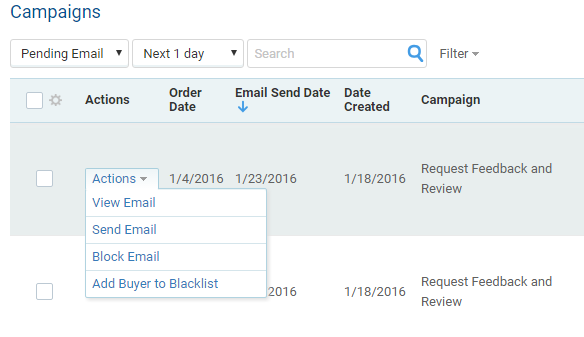 Click on Actions to:
View Email: View the content and format of the email.
Send Email: Send the email right away.
Block Email: Cancel this email. This email will be moved to 
Blocked Email folder. (See below) 
Delete Email: Remove the email completely.
Add Buyer to Blacklist: Add buyer to the Blacklist. The buyer will no longer receive any emails.


Learn more about the Buyer Blacklist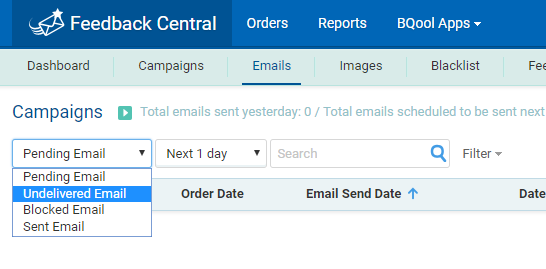 You can view different kinds of emails by using the drop down filter at the upper left. You can choose to see:
Undelivered Email:

Here you would be able to see a list of emails that were bounced back. You may try manually re-sending the emails one at a time. Please note there is no option for bulk actions to avoid Amazon rejecting bulk emails at once.
Blocked Email: Here you are able to View Email, Unblock Email and Delete Email.
We will keep a record of Blocked Emails for the past 30 days and of Sent Email for the past 60 days.
In addition, with the new Campaign Email Filters, you can quickly find or filter email using the following criteria: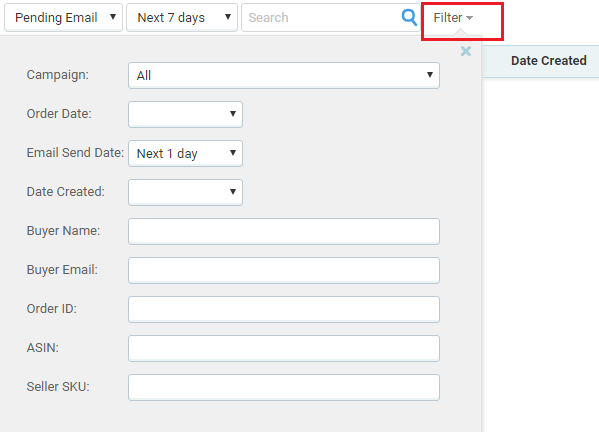 Emails - VAT 
* It is only available for the EU marketplaces with $50 or above subscription 
Go to Feedback Central > Emails > EU VAT Invoice to manage your VAT emails. The features here are the same as in Campaigns section.