Getting Started: Repricing Central
To begin repricing for a listing, you must specify a rule, a minimum and a maximum price. The rule designates how BQool will reprice your products, and the minimum and maximum price sets floor and ceiling parameters for price adjustments.
Follow the steps below to begin repricing:2. Create a rule
Feel free to Check out our BQool Repricing Central Getting Started Tutorial - How to Set Up BQool Repricer tutorial video.
---
1. Choose a Default Repricing Rule
BQool provides 5 Rule-based repricing rules, 5 AI repricing rules, and one custom rule.
Rule-based repricing rules
Among the five Rule-based rules, three rules are set to compete against the current Buy Box winner, while the other two are set to compete against the Lowest price/Lowest FBA price.
In terms of strategy, "Undercut the Buy Box Price" rules are designed to undercut the targeted seller by one penny and to raise your price once the Buy Box is yours.

Conversely, "Target the Lowest Price" rules are designed to be more aggressive and to guarantee that you are always competitive with your price, even when you own the Buy Box.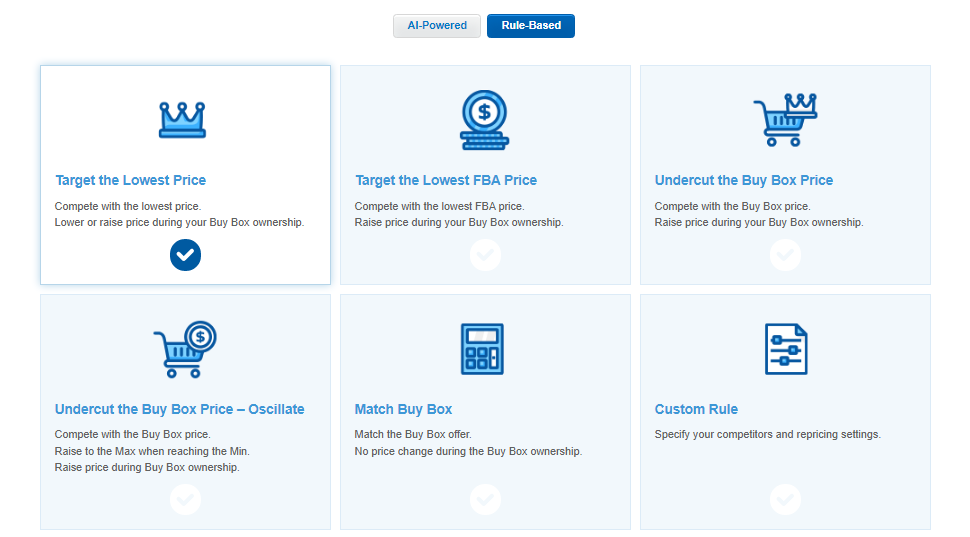 AI Repricing rules
There are 5 variations of our AI Repricing rule, based on the level of competition, AI Sales Maximizer, AI Sales Booster, AI Equalizer, AI Profit Booster, and AI Profit Maximizer.
Users can choose rules depending on their repricing strategies like how aggressive they would like the repricer to compete with other sellers.
---
2. Create a rule
Users can create a customized Repricing Rule to based on the current business operation goal. Navigate to Repricing Central > Marketplaces > Repricing Rules.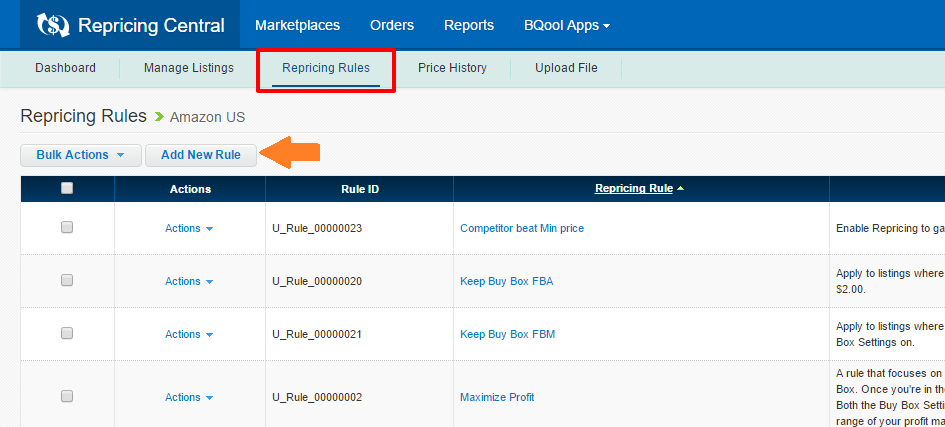 Users can click Add New Rule to customize the Repricing Rule along wth the Repricing Schedule.
To learn more about how to craft a customized Repricing Rule, please visit: How to Create a Rule.
---
3. Enter Rule, Min Price, Max Price
Before automatic repricing for a listing can begin, you must specify the Rule, Min Price, and Max Price for the listing.
Rule: This is the rule the listing will adhere to for repricing.
Min Price: This will be the minimum price for the listing. You cannot and will not reprice below Min Price.
Max Price: You will not reprice above Max Price.
After Rule, Min Price, and Max Price have been specified, repricing will automatically begin. A listing that has repricing enabled will have the following icon:

There are different ways to setup Min and Max price in bulk or even based on certain ROI or Profit margin. Please refer to the following support articles for more information.
Bulk Action: Bulk Method to Enter Min and Max
Bulk Upload: File Upload Method (Excel) - Updated!
Set Default Min and Max Prices
---
4. Specify Buy Box Settings

Set how you want to adjust Your Price when your listing is in the Buy Box.
When you're in the Buy Box, this is the ONLY setting that will be used.
Note: Non-Featured Merchants are not eligible for winning the buy box.
---
5. Specify Repricing Settings
When you're not in the Buy Box, you can select to compete with either the Lowest Price or the Buy Box Price.
Compete with Buy Box Price
You have the option to compete directly versus the Buy Box Price to adjust your price. This does not guarantee winning the Buy Box as there are many other factors involved, but it gives you a good chance to share the rotation or staying in
More Buying Choices
.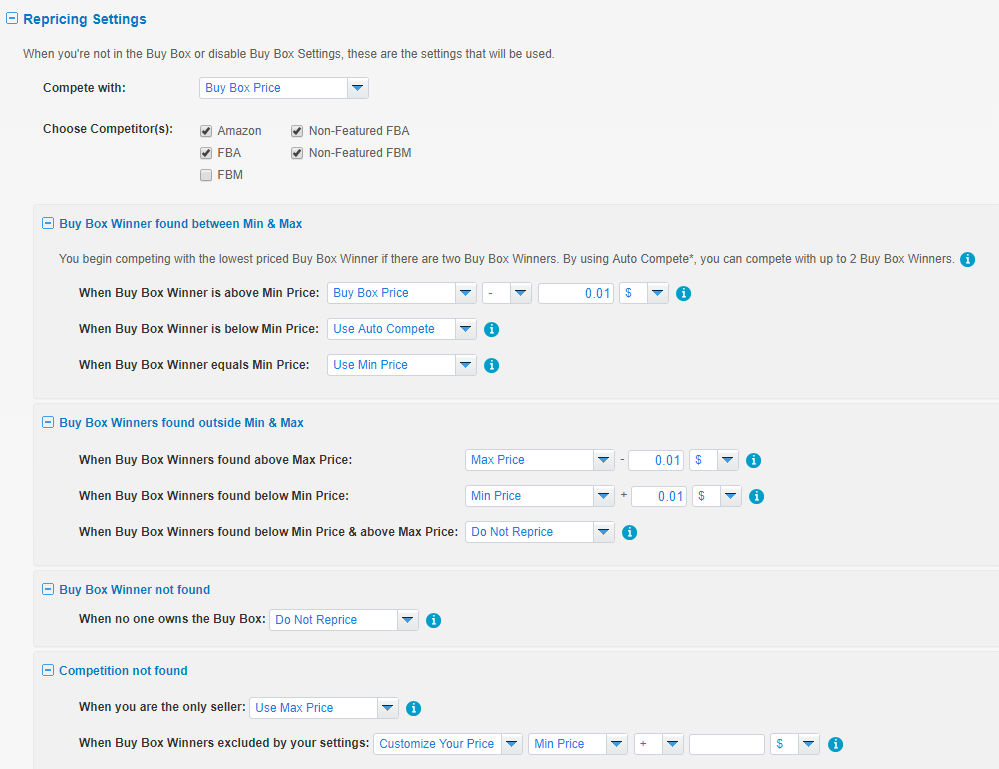 Compete with Lowest Price
This rule will instruct the system to target the lowest price eligible competitor and adjust Your Price in accordance with the given repricing response. It's worth mentioning that the rule of "Compete with Lowest price" won't be affected by the Buy Box suppressed scenario since the system will only target the lowest price offer and keep repricing activities going.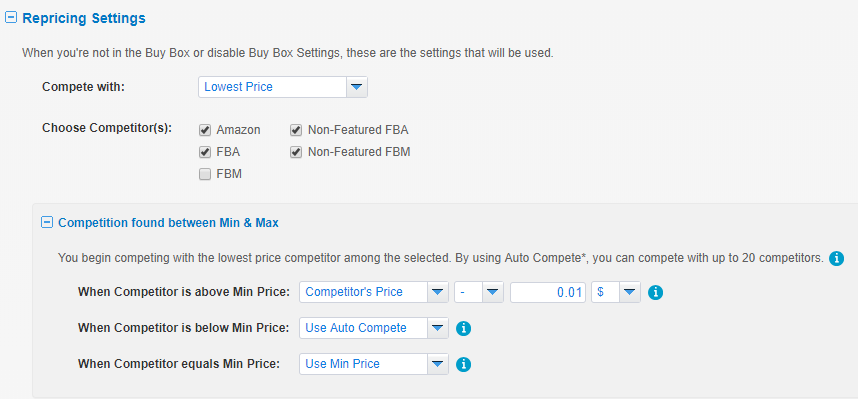 Advanced Setting
If you want more options for competing with different sellers under different scenarios, proceed to the Advanced Settings. Learn more about Advanced Settings.
---
***Note: When first setting up a Seller SKU in Seller Central, it is paramount to create a unique SKU name for your listing without abnormal symbols.
***Note: Before starting repricing, please ensure that you have paused the repricing activities from other repricer to avoid potential pricing conflict.
7. Related articles