Getting Started: Review Central
---
Browsing reviews
Navigate to Review Central > Marketplaces > Manage Reviews.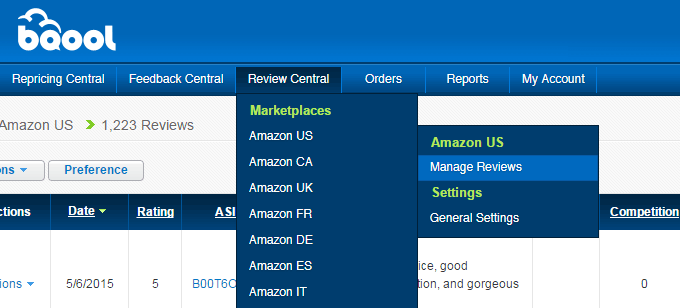 There you will see the product reviews for your listings.
Each row shows a review.
The Total Reviews column shows the total number of reviews for that listing and the distribution of review stars.
Use the filters to narrow the scope of your browsing.

---
Email customers
Before you can email the customer, you must match the customer's email with an order ID. This would give you access to the customer's email. To do this:
For the order you want to match, click Actions > Find Order ID.

  
You will be presented with a window with a list of possible ID matches.
When you want to confirm the match, click Select. 


Note: Sometimes there won't be an exact ID and review match. This is because customers can use a pen name when leaving a review, and customers also don't need to have necessarily purchased the item to leave a review.

Once you've matched the review to the customer's email, click Actions > Contact Customer for the review you want to respond to.

You also have the option to reply using an email template.
Learn how to create email templates
Note: Make sure the email you enter is registered as an approved sender with Amazon. Otherwise Amazon will block the email, and your customer won't receive it. Learn how to add your email to Amazon's approved senders list
If the method mentioned above still couldn't assist you to locate the ideal order ID, please refer the Support article for Advanced tips on finding the Order ID. 
Advanced tips on matching customer names with Order ID
---
Report reviews or leave public comments
If you want to request Amazon to remove negative reviews, click Actions > Contact Seller Support. You will be directed to Amazon's Seller Support site.

To add a comment to the review, click Actions > Add a Comment. You will then be presented with Amazon's comment box.
---
Change review status
After viewing and responding to reviews, you may want to change the status of the reviews to make them easier to find later. Use Actions to change the status of the review.
Status
Description
Pending Reply
Awaiting customer response.
Pending Resolved
Customer has agreed to change review, but has not done so yet.
Resolved
Negative review has been improved or removed.

Final status

Unresolved
Customer refuses to work with you to improve or remove negative review.

Final status

Closed
No action is needed for this review.

Final status
You can also change multiple feedback statuses at once by using the batch edit Actions button above the list.

The review statuses also correspond to the filter categories. Marking reviews will make them easier to find using the filter later.
---
Related articles