Custom Settings will take precedence over Repricing Settings and Advanced Settings.
Exclude or Compete ONLY with these Sellers by ID
You can choose to exclude sellers from the competition by selecting Exclude.

You can choose to ONLY compete against certain sellers by selecting Compete Only. If you select Compete Only, be sure to also check off the appropriate competitor types next to Choose Competitor(s).
Example 1:
If you want to compete against just one seller, and he has both FBA and FBM listings, you would check off FBA and FBM.

Example 2:
You want to compete against just one seller. He has both FBA and FBM listings, but you only want to compete against his FBA listings. You would check off FBA only.

Exclude Competing with your Own Account and Cut-throat Competition 
A friendly reminder, there are two scenarios where the "Exclude Seller ID" feature can come and handy from Custom Setting.  
With this gruesome price war, there will always be some sellers who purposefully drive the Price way to low and disrupt the whole market price. Additionally, some Amazon sellers have multiple accounts on Amazon and try not to compete with itself to lose profits. (i.e. a BQool user has up to 36 accounts on Amazon, he/she may need to exclude other 35 accounts to avoid profit loss.) 
With those two scenarios, the Custom Setting can help to Exclude or Compete only with Certain Amazon Sellers. Scroll down to the last section of each Repricing Rule, where you can find the Custom Setting. 
 To add a seller to the list, follow the steps below: 
-Select either Exclude or Include Only from the drop-down menu, then click Add Seller ID. 
-Enter a seller ID. 

-To obtain a seller ID, go to the seller's Amazon profile page shown in the picture below. In your browser's URL bar, at the end of the URL after seller= is the seller ID.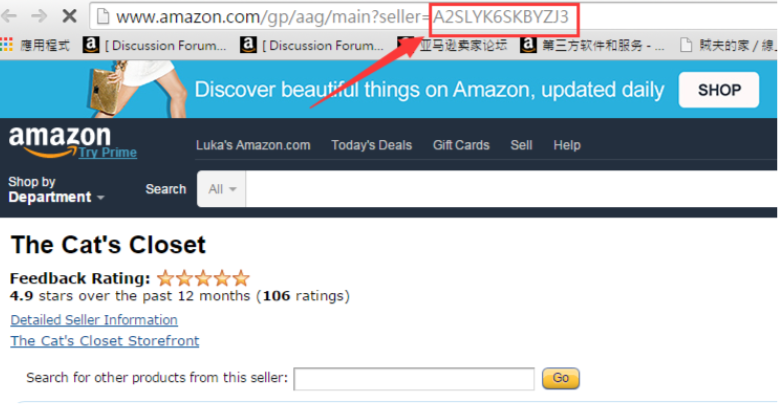 -Click Add when you're done.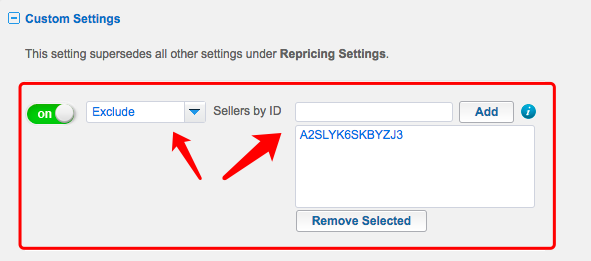 Delivery and Sub-condition
There are a total of 5 Custom Settings. The settings can be categorized under Delivery and Sub-condition.
You can now exclude or compete only with certain Delivery practices
Exclude/Include only Sellers with free shipping
Exclude/Include only Sellers with expedited shipping

Exclude Back-ordered: You will not compete with sellers with availability indicating a future date
Exclude handling time: There are options ranging from 2 days to 3 weeks
With Used and Collectible Conditions, you will be able to compete with 5 different Sub-conditions. The options to compete against Same and Same-or-better will automatically select the Sub-condition(s) for you. For example, if you are Very Good, you will only compete with Like New and Very Good. You will not compete with Good and Acceptable.
Selecting compete against Used/Collectible: You will need to select the sub-condition(s) you want to compete with from Like New to Acceptable.
Note: Amazon will give itself Availability = Now, but with handling day more than 1 week. In this case, you will need to turn on the Exclude handling time to not compete with Amazon listings with long handling time.
Exclude Sellers with Certain Seller Metrics 

Users can exclude Sellers with Positive Feedback Rating lower than a certain percentage. 
Users can exclude Sellers with Positive Feedback count lower than a certain amount.