The two biggest changes for the repricing rule upgrade are the availability to compete with the Buy Box price and the new custom settings to filter out unwanted competitors. This will allow you to reprice only against specific competitors which helps you sell at a higher profit margin.
Buy Box Settings
The Buy Box Setting will determine how your price will react when you are in the Buy Box. Previously, the Buy Box Settings will compete with both FBA and FBM by default, but now you will be able to select the competitor's fulfillment type. We recommend excluding Non-Featured Merchants.

---
Price Change Safety Net
The Price Change Safety Net will protect you from large one-time price. There are two separate Safety Net settings for Buy Box Settings and regular Repricing Settings. Please remember to set up both. It will be turned off by default. 
The Safety Net will only be triggered when the target competitor's price causes your price to drop beyond the percentage you set under "When adjusted price is lower than Your Price by X%." You will be able to "limit the adjusted price each time to = Your Price - Y%." 

To illustrate how this works, let's assume:
The adjusted price is above the Min Price
You entered 

50%

 for X value and 10% for Y value 
Here are 3 scenarios using the above values: 
Example 1: When the Safety Net will activate
Your price = $10.00
The target competitor's price = $4
Price Drop = - $6.01 (over 50%)
Your new price = $9.00 ($10.00 - 10%) NOT $3.99
Example 2:When the Safety Net will NOT activate
Your price = $10.00
The target competitor's price = $7.00
Price Drop = - $3.01 (under 50%)
Your new price = $6.99 (competitor price - $0.01)
Example 3: Safety Net activates due to low offer price
Your Price = $10.00
The target competitor's price = $1.00 + $6.00 shipping (Total $7.00)
Price Drop  = -$9.01 ((1.00 - 0.01) - 10 over 50%)
Your new price = $9.00 ($10.00 - 10%) NOT $6.99 (0.99+6.00 shipping)
---
Compete with Buy Box Price
You now have the option to compete directly versus the Buy Box Price to adjust your price. This does not guarantee winning the Buy Box as there are many other factors involved, but it gives you a good chance to share the rotation or staying in More Buying Choices. There are two new scenarios that were not available for competing with the lowest price.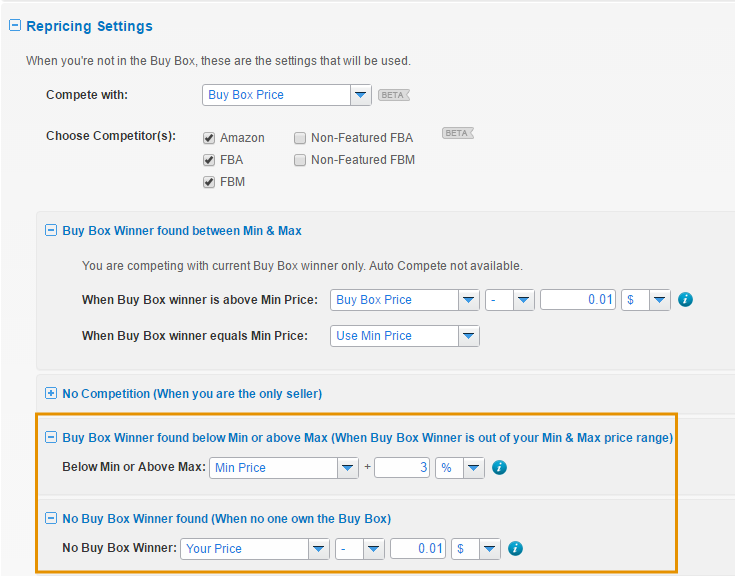 Buy Box Winner found below Min or above Max (When Buy Box Winner is out of your Min & Max price range) - Although the Buy Box winner should rarely be above your Max except when the Buy Box winner is Amazon
No Buy Box Winner found (When no one owns the Buy Box)  
Please take your time to think about these two scenarios and set up the price adjustment you would like.
---
Custom Settings
There are a total of 5 new Custom Settings added with this upgrade. The settings can be categorized under Delivery and Sub-condition.
You can now exclude or compete only with certain Delivery practices
Exclude/Include only Sellers with free shipping
Exclude/Include only Sellers with expedited shipping
Exclude Back-ordered: You will not compete with sellers with availability indicating a future date
Exclude handling time: There are options ranging from 2 days to 3 weeks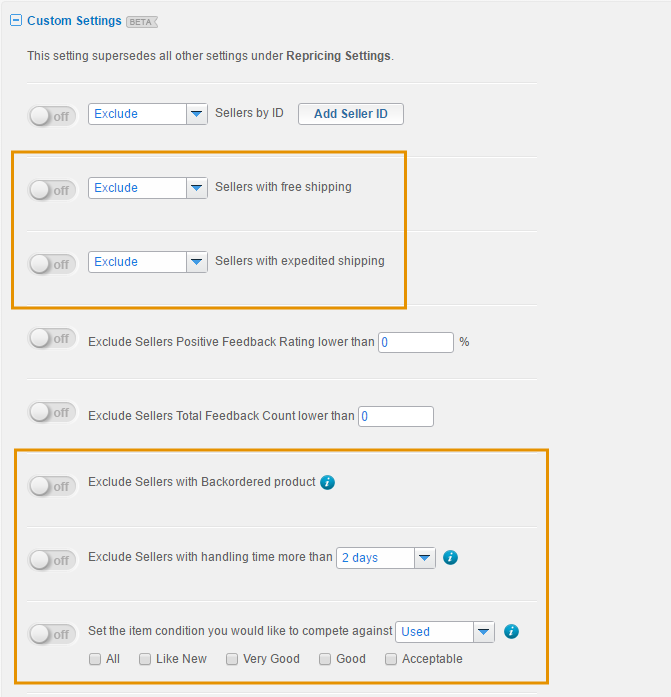 With Used and Collectible Conditions, you will be able to compete with 5 different Sub-conditions. The options to compete against Same and Same-or-better will automatically select the Sub-condition(s) for you. For example, if you are Very Good, you will only compete with Like New and Very Good. You will not compete with Good and Acceptable.
Selecting compete against Used/Collectible: You will need to select the sub-condition(s) you want to compete with from Like New to Acceptable.
Note: Amazon will give itself Availability = Now, but with handling day more than 1 week. In this case you will need to turn on the Exclude handling time to not compete with Amazon listings with long handling time.