One of the changes we made to increase repricing speed is not updating the shipping price with every price adjustment. The shipping price can still be refreshed any time by simply clicking on the reload button. You can also bulk Reload Shipping under the Bulk Action menu.
Note: the upload file will have Shipping column

New Column - Title / Fulfillment / Offers / ASIN / BB% / BB Owner / Position / Rank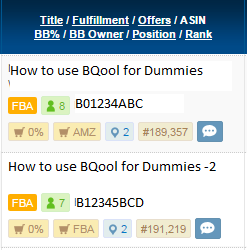 BB% = Buy Box Win % for this listing out of the SQS log
BB Owner = What type of seller is the Buy Box Owner (i.e. AMZ, FBA, FBM)
Position = Top 20 sellers Position. Click to open the Competitor Analysis
Rank = Sales Rank of the listing
Note = A message will appear when you hover your mouse over the icon. Only the most recent note will show. Click to edit the note or see previous notes.

Adding optional column – Group
The group column is hidden by default. You can add the group column by going to Settings > Preference (upper right-hand corner). The new update will only allow each listing to be assigned to one unique group. In other words, the same listing cannot be assigned to two different groups.
Note: the upload file will have Group column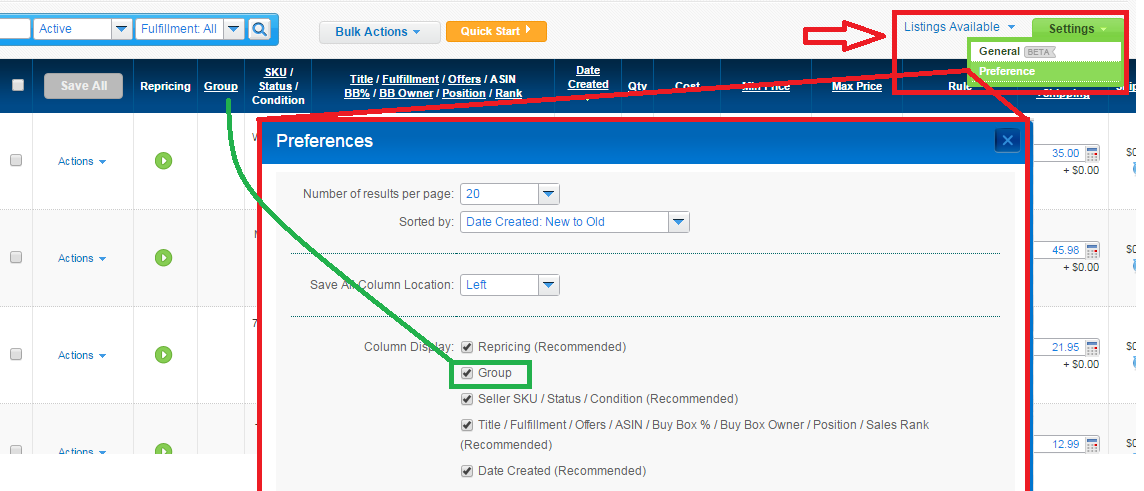 Repricing Column display- new update
There's a new update for repricing display. By default, we now put the "red pause button" on all listings without Min price, Max price and a rule. See the first row as an example.
If you have already entered Min, Max, rule and enabled repricing on the listing, it will show the "green play button" as shown in the third and the fourth row.
If you pause repricing for the listing, it will show a "red pausing bottom" again. See the second row as an example.