Dear BQool users,

We would like to inform you that we have made a minor update to Repricing Central.
You will now have the option to turn off a specific pop-up by clicking "do not show this message again". This will help you save time by avoiding pop-ups when setting Min and Max prices. Once you disable a pop-up, you can't re-enable it. Please email us at support@bqool.com if you'd like to reactivate a pop-up.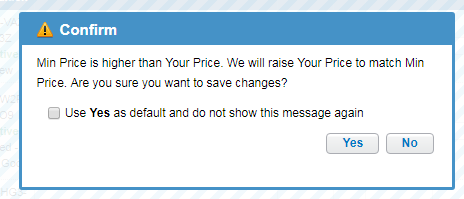 This only affects pop-ups for individual listings. We plan to fix Bulk Action errors caused by pop-ups by early November. 
Contact us if you have any questions regarding this. Thank you.