When you are changing your Min or Max Price, there are two situations that will trigger the Pop-up warning message.
1. Your Min Price is greater than your current price. (Min Price > Your Price)

2. Your Max Price is smaller than your current Price. (Your Price > Max Price)

The Pop-up message was design mainly to let you know that we will adjust your price to maintain within the Min and Max range.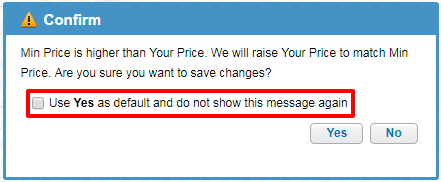 Now you will able to disable this Pop-up by check of the option: Use Yes as default and do not show this message again. After you check off this option the selection "No" will no longer be available.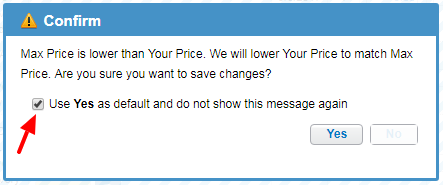 In the future, when you change the Min or Max Price, the new prices will apply right the way. You will still need to enable the repricing if your current price were changed because of the Min or Max adjustment. You can use the "Save All" or Bulk Action to enable multiple listings at the same time.
Note: Once the disable option was selected and confirmed, you will not be able to turn back up the Pop-up warning message for the situations mentioned above.