As your business grows, your total listings may exceed beyond the Repricing Central plan you initially subscribed to. Easily manage and track the listings within your current subscription with 'Listings Available'.
To access this feature, go to the Manage Listings page, and at the top-right side of the Manage Listings Page, you will find Listings Available - select this to see your listings summary: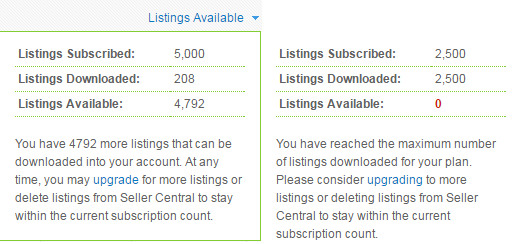 Listings Subscribed: The listing limit of your current subscription


Listings Downloaded: The number of listings BQool has downloaded for Repricing Central


Listings Available: How many listings left until you reach your subscription limit
You are can delete or close the inactive listings that you no longer wish to sell in your Seller Central account. This will make room for any new active listings to be populated over from your Seller Central account. Please refer to the support article: How to Manage your Total Listings Count  for more details.